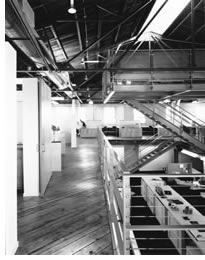 AIA Houston is proud to present the 15 projects selected to receive the chapter's 2002 Design Awards. Chosen by a jury composed of William Odell, AIA, HOK, St. Louis; Ronnette Riley, FAIA, New York City; and Julie Snow, FAIA, Minneapolis, the projects—and their architects and clients—were feted at AIA Houston's "Celebrate Architecture" event April 20 at the Brown Convention Center.
And the winners are:
HONOR AWARDS
Architecture
Covenant Church, Houston, by Appel Rogers + Labarthe Architects
The church was the first building project for a 35-year-old Baptist congregation who wanted to preserve the mature trees on their site and create an inviting neighborhood presence that includes a congregation-constructed labyrinth in its courtyard. Phase One of the project includes the sanctuary, administration, and gathering spaces for the congregation.
Ripley House Complex, Houston, by Kirksey
This community center provides a variety of social services for a Hispanic clientele. Its pinwheel shape provides two separate courtyards: a quiet one for seniors and a loud one for children. Traditional materials, such as stucco and bright primary color accents, reflect the clients' cultural heritage.
Round Valley Texas Office Building + Garage, Bellaire, Tex., by architect works, inc.
The architect created this spec office space in the hope of revitalizing a sagging commercial district. It allows the owner room to store his car collection separate from the income-generating tenant space and uses a pre-engineered steel structural system throughout.
Interior architecture
Idea Integration, Houston, by Kirksey
The architect met this e-business solutions provider's wish to "erase the fact that we are moving into a conventional office interior" with back-lighted translucent wall panels, individual hanging lamps, and individualized work stations within an open office. Marker-board wall covering installed where people gather encourages interaction and collaboration.
Office of DMJM Rottet, Houston, by DMJM Rottet
A gallery/showroom on the high-ceilinged ground floor attracts passersby to this design studio. North-facing bay windows were frosted to allow light yet create privacy in the open-office production space.
Renovation/restoration
fd2s Inc., Austin, by Stern and Bueck Architects
The architect cut away the floor of the main level of this existing 10,000-square-foot warehouse to share light and air with the level below. A mezzanine level was created over the light well courtesy of a steel deck suspended from the roof trusses and connected with an open stair.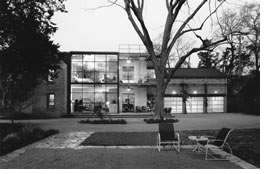 Morian/Clark Residence, Houston, by Wittenberg Partnership
Doubling the size of the original house, this addition pays homage to the existing structure proportionally, yet goes its own way in terms of space and materials. A two-story window wall focuses attention from the interior to the side-yard garden.
MERIT AWARDS
Architecture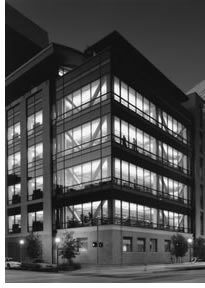 Fred Parks Law Library, South Texas College of Law, Houston, by Gensler
This 6-story newcomer to the South Texas College of Law Campus connects to its 10- and 4-story neighbors via a shared atrium lobby. Floor-to-ceiling glass walls on the east and south facades introduce natural light to the interior and create a "lantern-like" appearance at night.
River Compound Renovation, Hunt, Tex., by Glassman Shoemake Maldonado Architects Inc.
The architect's renovation and addition to this 1930s residential compound on the Guadalupe River doubles the size of the existing compound yet "maintains the summer-camp feeling" of the original. The new house, a cheerful combination of Texas dog-trot and Southern four-square, sits at 90 degrees to the two original buildings and shares their outdoor fireplace and patio.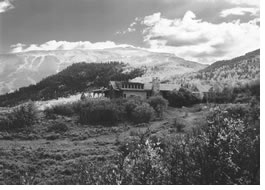 Morgan House, Aspen, Colo., by Jay Baker Architects
This residential compound of house, guesthouse, and garage follows the slope of its site, a ridge overlooking the ski slopes of Aspen. A landscaped courtyard unites the three cedar-clad structures and serves as a foil for the rugged beauty of the structures and the landscape beyond.
Live/Work/2309 Park Street, Houston, by Nonya Grenader, Architect
This two-story house and one-story work building are connected by external and internal circulation paths, an entry courtyard, and an overriding design concern: the need to accommodate and celebrate the client's collection of 8,000 books. Books provide the focus for every room. For instance, a band of high north windows follows the rhythm of bookshelves.
Las Cicadas Townhouses, Houston, by Parra Design Group Ltd.
This eight-unit townhouse development uses two long parallel rows to best tie in to its surrounding residential neighborhood. Inside, the architect combined the entertainment area with the kitchen and dining areas on one level to make the space feel larger and installed pine flooring to tie visually to the wood stairs and exposed beams.
Interior Architecture
BMC Software Headquarters, Houston, by DMJM Rottet Houston
This project constitutes phases three and four of an ongoing renovation for a corporate headquarters complex. It supplies a visitor training center, nine-story conference facility, fitness center, employee cafeteria, and typical floors housing private offices in a sleek Modern motif.
Savage Design Group, Houston, by Ziegler Cooper Architects
The architect combined a "can-do" aesthetic of exposed structure and mechanical systems with the existing building's Italianate architecture to create a metaphor for the client, a graphic design firm that combines traditional graphic media with Web site design. The client got their wish: a work environment that functions efficiently while supporting creativity.
Renovation/Restoration
University of Houston Downtown, third floor renovation, Houston, by BCA Brocker + Canady
The architect renovated the third floor of this existing building to allow "one-stop shopping" for student services and "squeeze a 21st university facility into a 1920s shell." Each student services department is served by its own vestibule with defining colors and shapes that allow students to navigate without a road map.
ON THE BOARDS
The jury also awarded five "On the Boards" awards to distinguished unbuilt work:
Merit Awards were presented to:
• House, by Kathrin Brunner, a weekend house in northern Switzerland
• Laredo (Tex.) Community College Campus overlooking Laredo, the Rio Grande River, and Nuevo Laredo, Mexico
• Washington Avenue Affordable Housing, by Joe Adams, AIA, built around a series of plazas offering defensible space.
The jury presented an Honor Award to Sketchbook, by Jara Kloucek, AIA, a first-time diary of pencil, watercolor, and ink sketches.
Stagecoach Natural Gas Compressor Station, Owego, Tioga County, N.Y., by Bruce Roadcap Architecture, earned the Best of Show Award for an industrial complex growing harmoniously from the natural environment of northern Upstate New York. The award included a scholarship to attend the International Design Conference in Aspen from the Houston Architecture Foundation.
Copyright 2002 The American Institute of Architects. All rights reserved.